Economic Development in Broken Bow, Oklahoma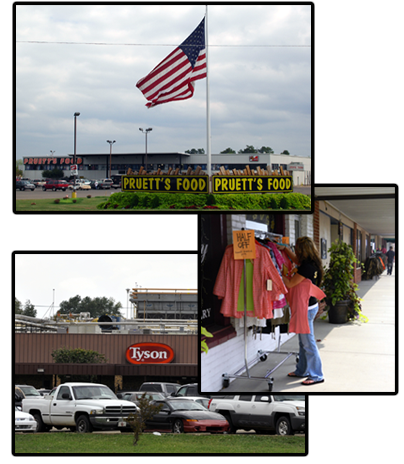 Broken Bow, Oklahoma is a business friendly city. We have the resources and the attitude to help your new business venture succeed! Whether you are opening a small business or relocating a major manufacturing facility we are ready to help.
Broken Bow is already home to several large industrial plants including the Huber oriented strand board plant, the world's largest O.S.B. plant. We currently have over 80 acres available for industrial development and we will work with our local realtors to assist you in finding and obtaining the perfect site for your plans. For veterans, many of the skills you learned in the military can be especially helpful in running a business. Visit The Veteran's Guide to Starting a Business for assistance.
We have an abundance of affordable water and electricity, excellent highways and railways, an airport with a long runway (3200 feet), and landfill facilities.
Broken Bow Lake and Beavers Bend Resort Park average over one million visitors each year. Broken Bow residents also enjoy an outstanding quality of life. Our Cedar Creek Golf Course received a four and a half (out of five) star rating by the Golf Digest Magazine and FLW Outdoors Magazine named our area one of the greatest bass fisheries in America. Broken Bow is the gateway city to Broken Bow Lake and the Beavers Bend Resort Park as well as the Mountain Fork and Glover Rivers. Our community has continued to invest in recreation by developing a 20 acre baseball complex with 7 fields for baseball/softball and practice fields for football and soccer.
Local Industry and Workforce Data
McCurtain County Employment by Industry

(03/2021)

| | McCurtain County | State of Oklahoma |
| --- | --- | --- |
| Civilian Employed Population 16 Years & Over | 12,437 | 1,761,328 |
| Agriculture, Forestry, Fishing, Hunting & Mining | 603 | 85,058 |
| Arts, Entertainment, Recreation, Accommodation & Food Services | 1,137 | 168,588 |
| Construction | 1,168 | 126,336 |
| Educational Services, Health Care & Social Assistance | 2,677 | 394,752 |
| Finance, Insurance, Real Estate, Rental & Leasing | 454 | 97,476 |
| Information | 152 | 29,882 |
| Manufacturing | 2,448 | 169,679 |
| Professional, Scientific, Management, Administrative & Waste Management | 585 | 148,046 |
| Public Administration | 439 | 108,207 |
| Retail Trade | 1,390 | 203,801 |
| Transportation, Warehousing & Utilities | 651 | 91,688 |
| Wholesale Trade | 280 | 45,451 |
| Other Services | 453 | 92,364 |
Major McCurtain County Employers

(03/2021)

| Name | Sector Type | Employees |
| --- | --- | --- |
| Choctaw Nation of Oklahoma (Multiple Communities) | Various | 650 |
| Tyson Foods (Broken Bow) | Processing | 1,250 |
| International Paper (Valliant) | Manufacturing | 700 |
| JM Huber Engineered Woods (Broken Bow) | Manufacturing | 500 |
| Weyerhaeuser (Idabel) | Processing | 360 |
| Daryl Thomason Trucking (Broken Bow) | Logistics | 200 |
| Dominance Industries/Pan Pacific (Broken Bow) | Manufacturing | 135 |
| SETCO (Idabel) | Manufacturing | 100 |