Visit Broken Bow Oklahoma & Explore McCurtain County!
Broken Bow, located at the foothills of the Kiamichi Mountains and home of the ever popular Beavers Bend Resort Park, welcomes visitors from near and far to enjoy the natural resources that have made Broken Bow thrive.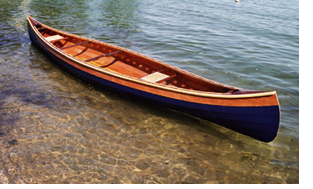 This scenic area known for its luscious green forests and abundance of clear water provides a fun-filled environment for many popular outdoor activities such as canoeing, boating, hiking, bird watching, golfing, scuba diving, hunting, mountain biking, camping, horseback riding, four-wheeling, and all types of fishing.
Maps & Driving Directions
Broken Bow is located in Southeast Oklahoma. Our lakes, rivers, mountains and forests are just a two to four hour drive away. Generally we are 200 to 250 miles from Dallas, Shreveport, Tulsa and Oklahoma City.  Click here for maps and directions.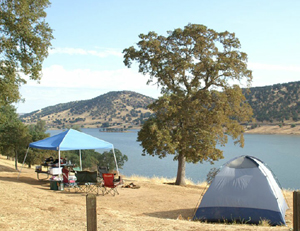 Plan Your Visit
We can help you find the perfect cabin, cottage, B&B, hotel/motel or RV park for your next vacation or weekend getaway. You can even check current availability online! Check our Visitor Resources to find places to stay plus fun and interesting things to do.
Broken Bow Lake Levels
You can now get current lake levels for Broken Bow Lake from the U.S. Army Corp of Engineers. For the latest information, Click Here.
Recently the editors of FLW Outdoors Magazine conducted an in-depth survey to identify the greatest bass fisheries in America and Broken Bow Lake was one of their choices! Here's what the professional fisherman had to say about our fantastic fishing:


""Tucked neatly away in the foothills of the majestic Ouachita Mountains of far southeastern Oklahoma lies one of that state's best-kept secrets: Broken Bow Lake. With its crystal-clear water and numerous islands, the 14,200-acre gem is rapidly becoming one of the better-known smallmouth-bass fisheries in the region.
With the impoundment of the Mountain Fork River, which is known for an abundant population of native Ouachita-strain smallmouths, it was merely a matter of time before this lake exploded into a bronzeback angler's dream come true.
Broken Bow is one of Oklahoma's deepest lakes, with some areas reaching 140 feet, and its shoreline consists of mostly steep, rocky banks cradling clean, clear water – the perfect recipe for smallmouth bass to thrive and reproduce year after year.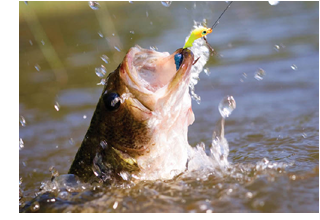 Almost all of the lake's smallmouths are hybrids of the river's native strain and a Tennessee lake strain first introduced into the waters in 1993. Eleven years after that introduction, Broken Bow boasts smallmouth bass with the best features of each strain. The Ouachita smallmouths are known for their fierce, never-give-up battles from the point of hook all the way into the boat. The Tennessee strain grows larger than the native fish. The result: a fighting machine that Oklahoma anglers consider the state's feistiest game fish.
Tournament anglers, who visit the lake with thoughts of abundant spotted bass and double-digit Florida largemouths (the Oklahoma state-record largemouth of nearly 15 pounds was caught here in March 1999), are noticing winning stringers consisting almost exclusively of smallmouth bass in the 2- to 6-pound range. Few Southern lakes can boast that kind of diversity in a bass population."
Lakes, Rivers & Natural Areas
Broken Bow Lake has 180 miles of shoreline; it is one of Oklahoma's most scenic lakes. Whether you're fishing for trout in streams that are stocked year round or canoeing the rapids of the Lower Mountain Fork, there is an outdoor activity suited for all ages and seasons.
Red Slough Wildlife Management Area is a 5,800-acre maze of reservoirs, moist soil management units (think swampy!) and forest. Red Slough is cooperatively managed by the Ouachita National Forest, Oklahoma Department of Wildlife Conservation, and the Natural Resource Conservation Service. It is one of the largest wetland projects of its kind. For more information, click here.
Museums of Culture & History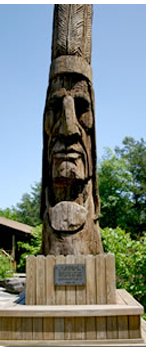 Culture and history are plentiful in Broken Bow with three museums each with its own unique subject to offer a rewarding learning experience.
At the entrance to the Beavers Bend Resort Park lies the Beavers Bend Wildlife Museum. Not only does this museum feature wildlife exhibits but also environmental education, making it a true learning experience for all ages.
The Forest Heritage Center Museum is located within the Beavers Bend Resort Park. Through a series of 14 large dioramas, painted by famous Smokey Bear artist Harry Rossoll, visitors learn the important role forestry plays in their lives. The Forest Heritage Center is also home to another Harry Rossoll creation, Tree Bear, who was developed to encourage tree planting and spread the message "Good Things Come From Trees!" One of the museum's newest exhibits, "The People of the Forest," includes over 150 historic photographs illustrating early day logging in and around Broken Bow and the surrounding communities.
Peter Toth Totem Pole: This is one in a 50 state series of "Trail of Tears" sculptures by Hungarian artist, Peter Toth. Mr. Peter Wolf Toth came to Oklahoma to sculpt Oklahoma's Indian monuments. Mr. Toth's goal in life was to complete at least one sculpture in each of the fifty states. To date, he has done 67 monuments. All of his monuments are his own concept of the North American Indian and bear many similarities, except for certain characteristics, which pertain to the Indians of that region, such as feathers, headbands, or other decorations.
Talimena National Scenic Byway
The Talimena National Scenic Byway is a nationally recognized scenic drive with offering magnificent views from mountain tops in Eastern Oklahoma and Western Arkansas. You can access the Talimena Scenic Drive just north of the Broken Bow Area. To visit the Talimena National Scenic Byway website, click here.
Other Important Agencies of Interest: