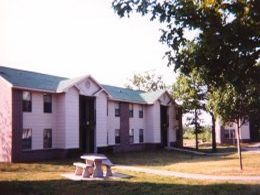 The gateway to Beavers Bend State Park and Broken Bow Lake is where you will find GardenWalk of Broken Bow.  Located at 1200 N Broadway, in Broken Bow Oklahoma, the complex consists of 96 apartments ranging from 1, 2, 3, and 4 bedroom apartments and sits on approximately 10 acres. We also offer handicap accessible apartments. Each apartment comes complete with storage space, washer/dryer hookups for your convenience, tub and shower, refrigerator, stove, and central heat and air. The recently remodeled community is energy efficient.  If you are looking for outdoor activities we have several playground areas, bike racks, and a basketball court available.
The address of 1200 N Broadway allows you to be within ½ mile of all business.  Enjoy downtown shopping, restaurants or visit the local post office.  We are located within the Broken Bow school district which includes the high school and Dierks and Bennett Elementary schools.
Come enjoy the many benefits which include on-site and emergency maintenance available, on-site management, bi-weekly lawn care, on-site computer room with internet access to residents for school or job related use, and last but not least we offer luxury and affordability.
We take great pride in our complex and our resident's comfort and we want to welcome you HOME!
Gardenwalk Apartments
1200 North Broadway
Broken Bow, OK 74728
M-F (8:30a-4:30p)