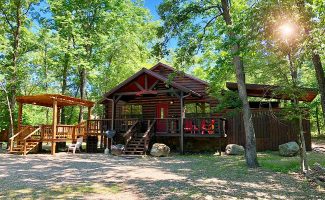 Chillin' is a fully-equipped 2 bedroom, 2 bath authentic log cabin appointed with very comfortable leather furniture.
If you are looking for a very private lake vacation at Beavers Bend Resort Park and Broken Bow Lake (aka Beaver Bend Lake), this is the perfect rental cabin in the woods.
It is set among acres of tall pine trees and a meadow. Its seclusion away from nearby roads and other rental cabins is a very desirable feature making it unique for the area and perfect for a lake vacation.
It comfortably sleeps up to 6 adults, with 1 Queen Size Bed, 1 King size bed and one Queen Size Sleeper Sofa.
228 Orca Rd
Broken Bow, OK 74728