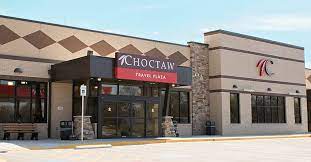 Choctaw Travel Plazas were created to provide the essentials for all of your travel needs. Clean restrooms, cold or hot drinks, snacks, refreshments, fuel, authentic Choctaw merchandise, and even a little gaming action at the Casino Too. These are just a few of the many reasons our visitors so frequently stop in.
Not only does the Choctaw Nation share a rich heritage and culture within the communities we serve, we offer opportunities to improve the lives of our people and all residents living in southeastern Oklahoma.
If you have an interest in learning more about an opportunity to join our team, please visit us at careers.choctawnation.com today, where a career is more than just a job.
1800 S Park Dr
Broken Bow, OK 74728
Open 24/7