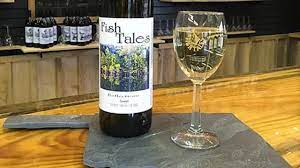 Fish Tales offers a variety of wine, but specializes in Muscadine wine made from grapes grown in our vineyards. Our Bistro offers great food, too!
Discovered by Sir Walter Raleigh in 1584, the muscadine is considered to be America's first grape, but it may be better known as the "grape of the south". Muscadine vines can be found along forgotten country roadsides, in the occasional opening of an overgrown forest, or sometimes at an abandoned homestead. When late summer arrives, you may find your neighbor off the front porch and in the woods searching for this juicy black grape to make jelly and homemade wine. We invite you to enjoy one of the same discoveries of our settlers.
Fish Tales Winery's Grand Opening is currently scheduled for March 12, 2016. We are located across from the main entrance to Beaver's Bend Park in what was Three Rivers Fly Shop in the beautiful Hochatown tourist area.
Keep checking back for our progress and updates, along with the addition of an online store for your convenience.
A variety of wines will be offered, including Muscadines from our own vineyards: Red, White, Sweet, Semi-Sweet, and Semi-Dry. Non-alcoholic Juice will be available and can be used in a variety of different ways. A visit to our Tasting Room will give you the opportunity to experience our wines and taste the magic of SE Oklahoma and the Hochatown area. We will have a gift shop offering our wines, juices, wine accessories and other gifts.
17 Oak Leaf Ln
Broken Bow, OK 74728