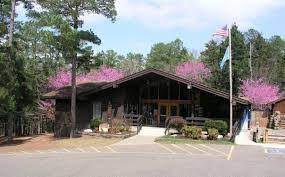 "Wood Art Capital of Oklahoma" this World Class Forestry Museum is located in Beavers Bend State Park.
The Forest Heritage Center Museum is located in Beavers Bend State Park (north of Broken Bow, Oklahoma).  Operated by the Forest Heritage Center Advisory Board and Oklahoma Forestry Services, the museum houses historical documents, antique forestry tools, wood art, homestead memorabilia, and a research library filled with books, periodicals, and other materials pertaining to forestry.
Visitors to the museum will view 14 large dioramas (painted by Harry Rossoll of Atlanta, Georgia, the artist who created Smokey Bear) that cover Prehistoric Forests, Caddo Indians, Papermaking in the South, 1940's Lumbering, and Forest Appreciation.  Each diorama is accompanied by a taped narration.  Other exhibits include the Forest Wood Art Gallery, chainsaw carvings, a 100 year old log cabin from the Kiamichi Mountains, and traditional woodworking tools dating from the earliest tools used in the harvesting of timber from the mountains.
No Admission Charge
Open 365 days a year from 8:00 a.m. to 5:00 p.m.
Beavers Bend Resort Park
4350 S, OK-259A
Broken Bow, OK 74728