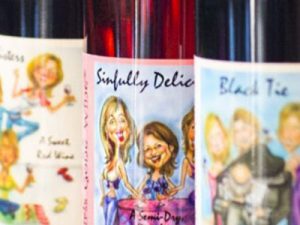 Girls Gone Wine is a winery, tasting room, and gift shop where fun times are always in store!
Girls Gone Wine is a dream come true for owners Chandra Rickey, Michelle Finch and Rhonda Reed! It all started on a road trip to Dallas where the three friends visited a fun winery where you could make your own wine. They made a couple of batches and returned to the tourism area of Broken Bow/Hochatown and said, "Hmmmmmm…..that would be a fun thing to do here! Why not?!" Twelve years later the girls have become the largest production winery in Oklahoma!
On April Fools Day, 2006 the girls opened the doors to Girls Gone Wine and have been having a blast ever since! The vibe at Girls Gone Wine is intentionally fun, fun, fun and the experience of a good fun time begins at the front door and is carried out throughout.
Tastings are always complimentary and the gift shop is OUT OF CONTROL with so much fun merchandise you just can't leave without a bag full of must have gift items.
The patio is a favorite hang out for visitors and in 2018 the newly constructed VIP tasting room with patio will open! Currently the winery sales wine at their Broken Bow winery/tasting room and ships wine to nearly 30 states but in 2018 we can finally ship to Oklahomans—YAY! Finally!!
Make plans to visit Girls Gone Wine, enjoy a glass of locally produced wine, tour our production facility and shop, shop, shop! Open 7 days a week except for select holidays
10216 US-259
Broken Bow, OK 74728