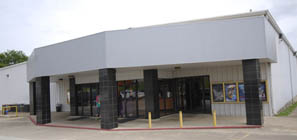 Bargain Day all day Tuesday! 2 for the price of 1 all day Tuesday.
All shows before 6:00 pm are matinee price.
Ticket Prices:
Adults $8.00
Children $6.00
Matinees $6.00
All 3D Movies
Adults $11.00
Children $9.00
Matinees $9.00
ALL Shows Before 6:00 pm Are Matinee Price.
ALL R-Rated Night Show Tickets Are Adult Price.
Tuesday Specials All Day.
Advance Tickets Are Only Available for Special Premieres. Advance Tickets Are Not Available for Any Other Showings.
3300 NE Lincoln Rd.
Idabel, OK 74745