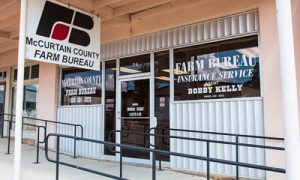 Oklahoma's farm and ranch families work the land, care for their animals and wisely harness our natural resources to grow food, fiber and fuel for Oklahoma and beyond.
Oklahoma Farm Bureau gives a voice to Oklahoma's farmers and ranchers, standing beside them and representing their rural way of life. Through member-driven grassroots advocacy, Oklahoma Farm Bureau gives a voice to farmers, ranchers and rural Oklahomans, regardless of what they farm, what they raise or where they live.
Oklahoma Farm Bureau members come from all walks of life and work in all facets of agriculture. Together, we work to ensure the best traditions of our state are preserved for the next generation of family farmers and ranchers.
We are Oklahoma Farm Bureau.
We are rural Oklahoma.
24 N. Main
Broken Bow, OK 74728