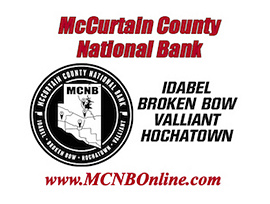 MCNB is 100% locally owned and operated by people of McCurtain County. MCNB was established after seeing the opportunity of offering a competitive advantage to our customers.
Since our opening in 1982 in Idabel, with deposits of 1 million dollars, MCNB has grown to an institution in excess of 100 million dollars, with  banks in  Idabel, Broken Bow and Valliant. This growth is a direct result of our commitment to you.
We do not strive to simply become bigger: we strive to grow as a product of being better for you. We have set goals to provide service and value to you, our customers. We fulfill our goals by providing you with the highest level of service, which satisfies all banking needs. Achieving goals by setting a higher standard is what it is all about.
Delivering more value + better service = continued growth for your business and ours.
Check out the MCNB competitive edge. We are providing RESULTS through BETTER SERVICE, while giving you a GREATER VALUE for your dollar. We want to be your Bank.
"We are banking for the future at McCurtain County National Bank."