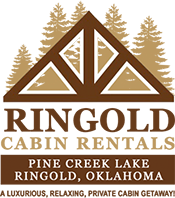 Ringold Cabins are the special getaway that you are looking for, located in southeastern Oklahoma, our luxury cabins offer guests a unique combination of rustic elegance and upscale comfort. It's an unmatched Oklahoma travel destination where you can come to unwind and relax.
Located in a slow-paced area, off the beaten path. Ringold Cabins are nestled in beautiful Southeast Oklahoma hardwoods and offers the rare opportunity to enjoy the ultimate in serenity and quiet. You can enjoy going on hikes, exploring nature, watching wildlife or just sit under the stars.
Whether you are looking to getaway for a private honeymoon, a special anniversary, a getaway with friends or family or a fishing trip we have the perfect cabin for you. We have luxury romantic cabins for couples only, spacious cabins perfect for 2 couples or families, and cabins convenient to Pine Creek Lake for fishermen.
331 Choctaw Ridge Rd
Ringold, OK 74754