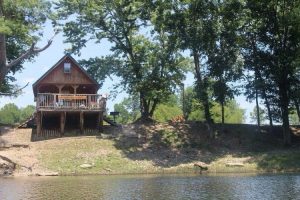 Rent a cabin in Broken Bow, Oklahoma right on the bank of the lower Mountain Fork River!
Enjoy your own private cabin on the banks of the Mountain Fork River in Southeast Oklahoma's McCurtain County. Our outstanding location gives you instant access out your back door to Oklahoma's clear, cool Mountain Fork River.
Intimate Cabins – Private Setting
Our Riverbank Cabins are set on 300 acres of wooded and pasture private land with over 20 ponds stocked with bass and crappie. We are the perfect destination for fishing, canoeing, hunting and just generally exploring McCurtain County's scenic outdoors. We also make a great destination to just kick back, cozy up and watch the river flow by!
We offer three cabins that can be rented separately or together for larger groups.
Our cabins have an additional feature that's not often found in the area. A storm shelter. While severe weather is rare in the area we think a storm shelter adds a little more piece of mind for our guests. All cabins have access to the shelter.
PO BOX 574
Broken Bow, OK 74728