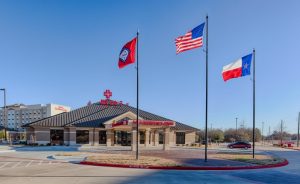 TECH provides the quality and level of medical care of a hospital-based ER with a private, patient-focused practice 24 hours a day, 7 days a week.
Texarkana Emergency Center & Hospital was conceived with a simple, yet visionary idea – to bring quick and compassionate, concierge-level emergency care to its community.
Our inclusive facility offers completely comprehensive medical care, treating both major and minor injuries. Whether you need imaging for a broken bone or testing for an infection, you can count on our team of expert staff and physicians to deliver the emergency care you deserve. Our facility has since grown into a true pillar of the community and we're proud to serve Texarkana and its surrounding areas.
4646 Cowhorn Creek Rd,
Texarkana, TX 75503