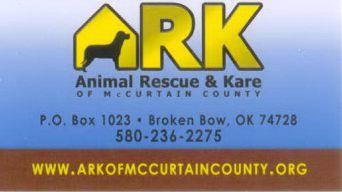 To promote the humane treatment of companion animals by advocating for spay/neuter as the option of choice for all pets, providing care for abandoned and/or abused animals, assisting in the adoption of pets, and encouraging responsible pet ownership through educational programs.
We are a non-profit organization in Southeast Oklahoma made up of too few volunteers working toward 0 population growth in companion animals.
ARK is funded through public donations, and they are always appreciated to help us continue our volunteer work. We are a 501C3 Organization and all donations are a tax write off
.
Due to high call volumes ark has added a second phone line.
For all spay and neuter information, call 580-236-9272 and leave a message. You will NOT get a call back until it is time to schedule your pets appointment. (please understand we are unable to predict when our next available clinic will take place).
SPAY AND NEUTER-The cost at the spay and neuter clinic : cats-$35. Dogs under fifty pounds- $45, over fifty pounds $55.
DOG HOUSES-If you need a barrel dog house, please go to Wright flower shop across from Brumley funeral home in broken bow during regular business hours. They are $10.
DONATIONS- all physical donations (bedding, dog food, crates, ect..) can be dropped off at Suds n Such laundry in Broken Bow.
To make a cash donation you can go to First Bank and Trust. To mail a donation please send it to P.O. box 1023 Broken Bow, OK. 74728
All other inquiries, call or text – 580-236-2275
Our meetings are the first Tuesday of every month beginning at 7:00 p.m. at the Broken Bow library