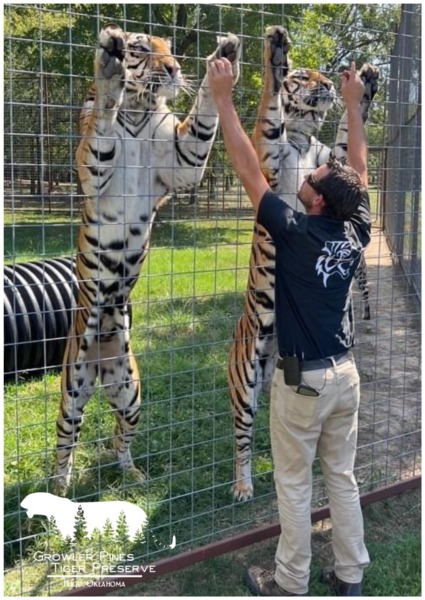 We are a retirement home for retired circus animals, supporting wild tiger conservation efforts.
Share in our enthusiasm to care for our loved animals while protecting their wild counterparts, together making memories to last a lifetime.
Growler Pines Tiger Preserve is located in the beautiful Red River Valley of southeastern Oklahoma. We are a private facility only open to the public by reservation for guided encounters. Your tour of our home will allow you to meet our tigers and includes our unique hands-on demonstrations showing how we train and care for them through the building of personal relationships, time, patience and expertise. Afterwards, relax as you enjoy our tigers lounging comfortably and playing amongst themselves in our ever-growing habitats. These tours are personal and interactive – ask questions, learn more and share our passion for both animal care and conservation!
2948 E 2110 Road
Hugo, Oklahoma 74743